Arlott Residence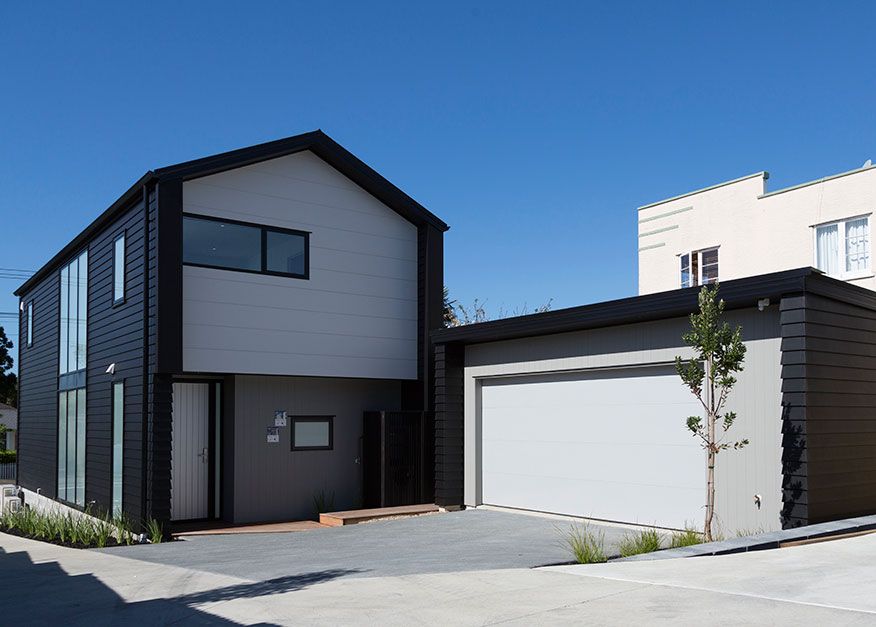 Location:

Auckland

Floor Area:

129m2

Status:

Completed 2013
The brief was to design an affordable, cost effective home - which was efficient with space, low maintenance, and eco-friendly - to be situated on a 383m2 city fringe site.
We have created a home that is simple in form, ensuring cost effectiveness with no wasted space. Based on an efficient footprint of 64m2, the house features open plan living with economical circulation areas and hallways, and simple straightforward storage solutions.
The smaller building footprint and relative site area under 400m2 provides proportional scale and context that is quickly becoming a new way to live.
The gable roof has been completed with a combination of claddings, which vary to the gable ends with horizontal Stria weatherboards and vertical Axon panels, defining the overhang from the first floor. The main external walls forming a dominant outer layer with dark weatherboards and add scale.
A double garage has been placed on the rear of the property. A mono pitch roof has been employed to reduce the scale of the garage, having less impact to the main outdoor living area providing a privacy screen from the neighbours.
Upon entry to the home you are met with openness and light, with the open stairs providing a back drop against a full height glazed wall.
The opaque glazed wall allows light to flood into the living area combined with floor to ceiling glazing adding to the sense of space.
Bedrooms have been located on the first floor with an ensuite for the master bedroom and a shared bathroom for the additional two bedrooms, creating an ensuite effect.