Cook Holiday Home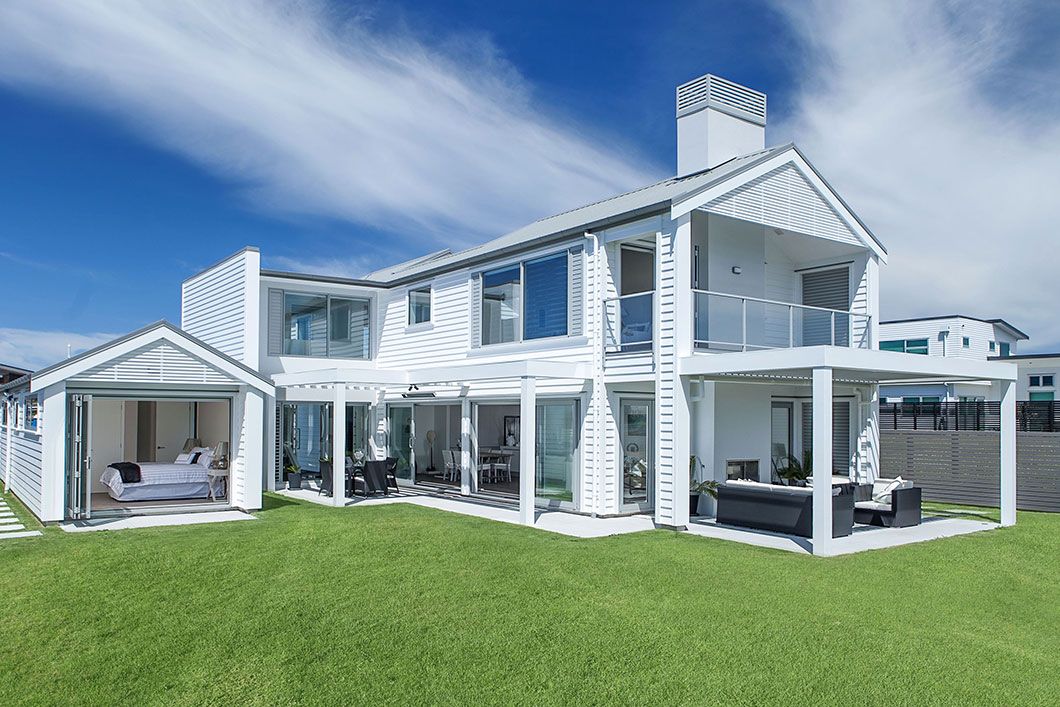 Location:

Omaha

Floor Area:

245m2

Status:

Completed 2012
The brief was to design a holiday home in Omaha which was low maintenance and had the appearance of a traditional boat house. The layout was to be open plan and suitable for entertaining both indoors and out, making full use of natural light and providing peeps of the ocean from the upper level bedrooms.
Traditional, clean gable forms create a strong axis to the building on both levels. The double height entry area draws the viewer through the building with a glimpse to the outdoor spaces beyond. Two distinct bedroom wings have been created; one on the ground floor separate from the open plan living area and the second upstairs with two self-contained bedrooms, each having glimpses of ocean and hills. The main bedroom has a private deck to enjoy the coastal sunrise. The open plan living area and garage form another wing on the ground floor running parallel with the bedroom wing.
A boat house aesthetic was achieved using strong gable forms with metal roofing, timber battens and traditional timber weatherboard cladding.
Substantial timber columns, beams and louvres were used in the outdoor spaces to provide shade from the sun. Louvre screens were installed to provide privacy from the neighbouring property.
Outdoor living areas are designed to be versatile. One has a closing aluminium louvre roof extending from the end of the open plan living/dining kitchen area and includes a double sided fireplace. The other outdoor area, with timber louvres, is located off the dining room and is a more sheltered space nestled between the wings of the house.
Wooden floorboards throughout the open plan spaces bring warmth and resilience inside, contrasting with the sawcut concrete outside. A void space alongside the walkway above allows light to flood the dining room and entry area below. Colours selected were white and greys for the exterior to expand/draw on the airy nautical feel and compliment the client's plans for a light palette inside.