Hodgson Holiday Home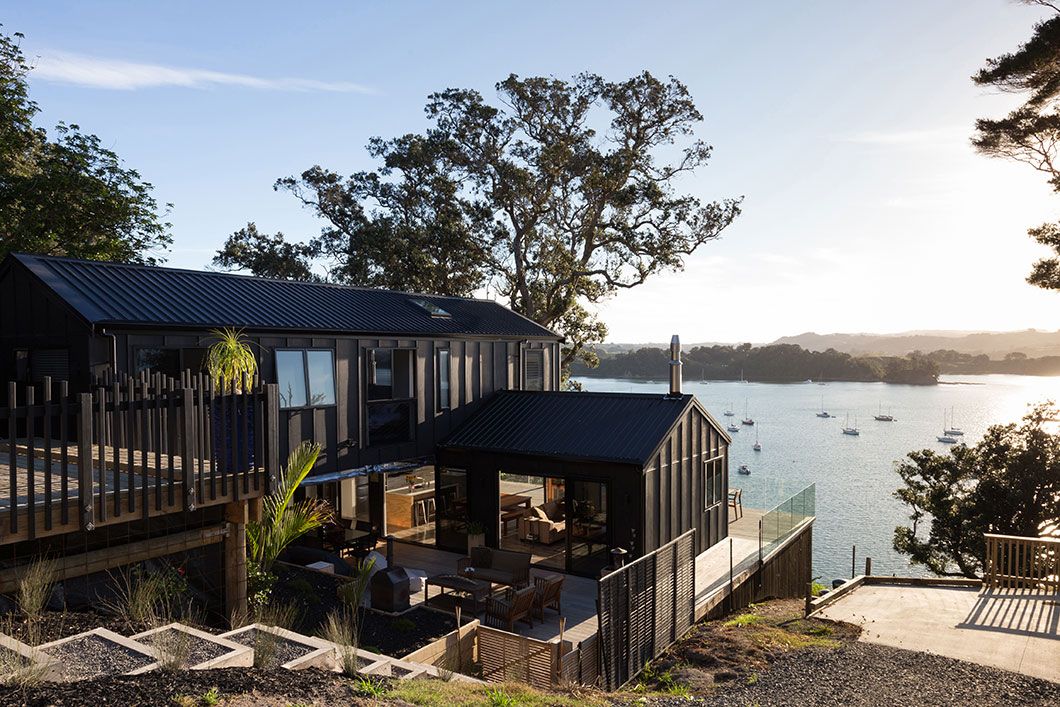 Location:

Scotts Landing, Mahurangi East

Floor Area:

150m2

Status:

Completed 2015
The clients requested that we create a boathouse feel for their new beach house - a place to relax with friends and family while making the most of the stunning views and natural landscape.
From the road the development is not visible, sitting farther down the slope and screened by vegetation. From the sea the house is unobtrusive, cut into the slope achieving minimal disturbance and coloured dark charcoal to recede into the landscape.
Clad in dark stained plywood and battens with a dark roof cladding, the house sits well in the existing landscape.
The house has been designed with the bedroom wing in an east-west axis culminating in the master bedroom, commanding stunning views across the bay. The lower living wing stretching in a north-south axis, acts as a pavilion for entertaining with multiple areas off both sides for relaxing while enjoying sea views. The semi enclosed area under the bedroom wing with café style screens, provides a cosy outdoor room in cool weather allowing outdoor living all year.
A key part of the design was maximising the breath-taking views out to the bay from the living areas and master bedroom. This was achieved through the T shape design which allowed continuous views from the lower living areas with a deck facing the sea which utilises a pergola, the existing Pohutukawa tree and sea breezes to provide some shelter from the sun.
Entry to the house is from the top of the site via the bedroom wing. Upon entry visitors are met with a light filled space and immediate view out to the sea over the staircase with its full height glazed wall leading down to the lower living level.
The two story glazed wall allows light to flood into both floor levels. Forming the T shape, the bedroom block sits on top of and at right angles to the lower living level, affording the ultimate tree-top view across the bay for the Master Bedroom.