Tawhai Residence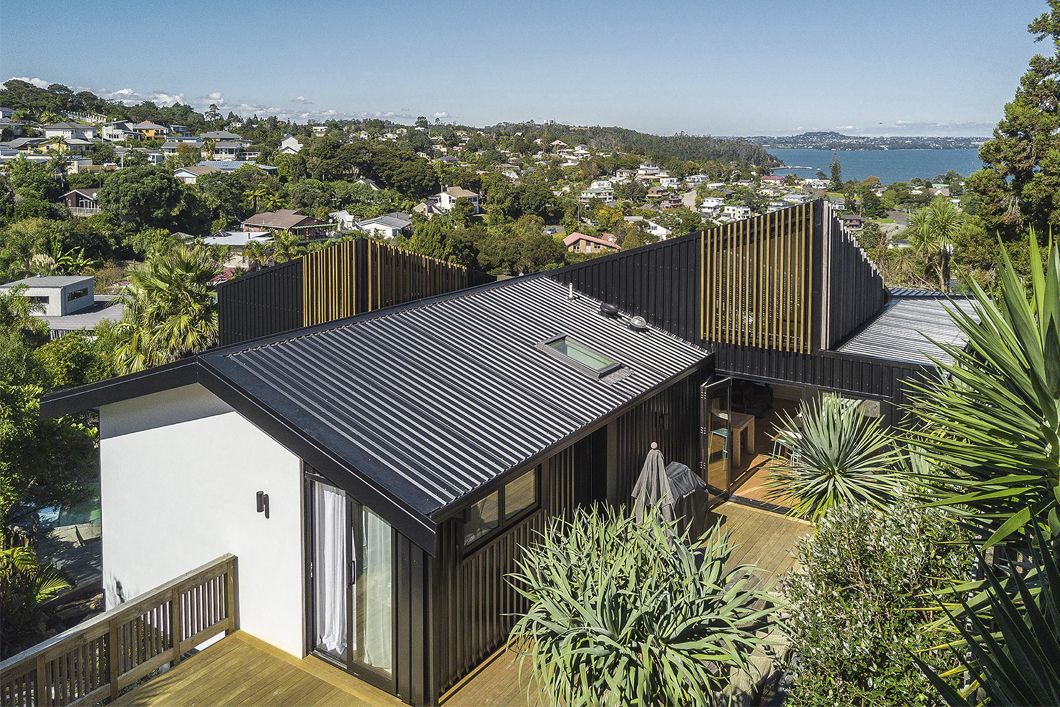 Location:

Beach Haven, North Shore

Floor Area:

262m2

Status:

Completed 2017
Located in Beach Haven, North Shore, the brief for this project involved alterations to an existing 1970's brick and concrete tile home house on a steep sloping site. The existing house was perched high on one end of the site. Working within the client's budget, alterations and additions were focused on a new wing stretching from east to west.
The proposed design extrudes and fragments the existing rectangular form, introducing new high vaulted ceilings and emphasising the verticality through angular geometric shapes and strong vertical lines. The additions have focused on breaking the rigidity of the rectangular box form and being more purposeful in positioning and designing to take advantage of the breath-taking views of Waitemata Harbour to the south. In extending the house, the design opens up the living and kitchen areas and enlarges existing decks.
Existing brick cladding was plastered, with the new kitchen, living, and dining wing clad in long-run metal cladding with cedar screen battens.
The vertical orientation of the exterior cladding emphasises the pitched roof forms arranged in a series of flying wedges providing interest with its geometric nature.
The alterations have transformed an enclosed dwelling to fully utilising the potential views with genuine strong indoor-outdoor flow. New large glazing units opening onto enlarged decks with glass balustrades maximises the views out, while selective enclosure provides visual privacy from neighbours. Unfortunately the house suffered fire damage 18 months after completion, requiring rebuild of the interior.