Thomson Residence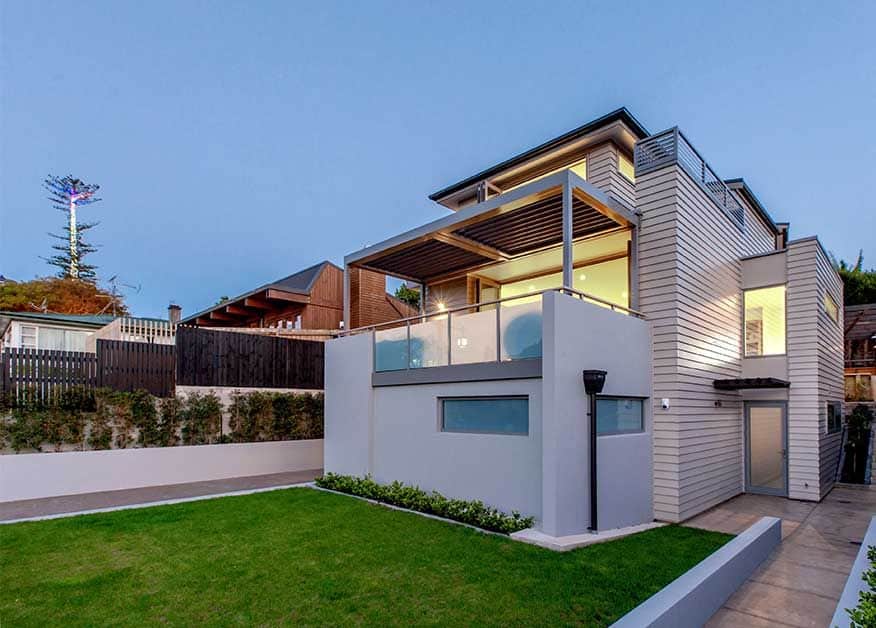 Location:

Parnell, Auckland

Floor Area:

155m2

Status:

Completed 2014
The brief was to design a home to replace the old existing family home in the historic suburb of Parnell. The house had to be integrated into 5m sloping property while capturing with northern city views at the front of the property and meeting town planning requirements.
The clients required the house to be designed as a family home allowing the tight knit family to come together or separate out when it suited.
The brief included four bedrooms, guest bedroom, open plan living, separate family/dining room, rumpus for the children, home office and two garages. One garage was to be allocated for Nigel's car and bike collection.
The property has fantastic northern city views and western views up to the Auckland Museum while being set in a high density area of Parnell, so had to be integrated into the historical town planning requirements of a Residential 1 Zone.
To deal with the brief and floor area we stacked the levels upon each other creating five split levels with a central circulating stairwell which was heavily glazed and used to break the linear differences between the front and rear portion of the building.
The stairs were designed to be a feature of the home accessing the five levels and being the central spine. The back portion of the building was skewed to open up the western living courtyard while complying with boundary height controls. This allowed the main living area to access natural ground at the rear of the property. The stepping and use of landscaped retaining walls combined with vegetation has helped to reduce the scale of the 3.5m cut to the front yard.
The western outdoor living area was designed for protection from the elements while having a connection to the kitchen and still being able to take in the city views and Auckland Museum. Similarly the northern deck utilises the city views, while providing privacy from the street and further shielding the living room, with an uninterrupted vista.